Successful Student Outcomes Matter More Than Ever
by Bob Campagnuolo and Jonathan Steele, principals, GDA Integrated Services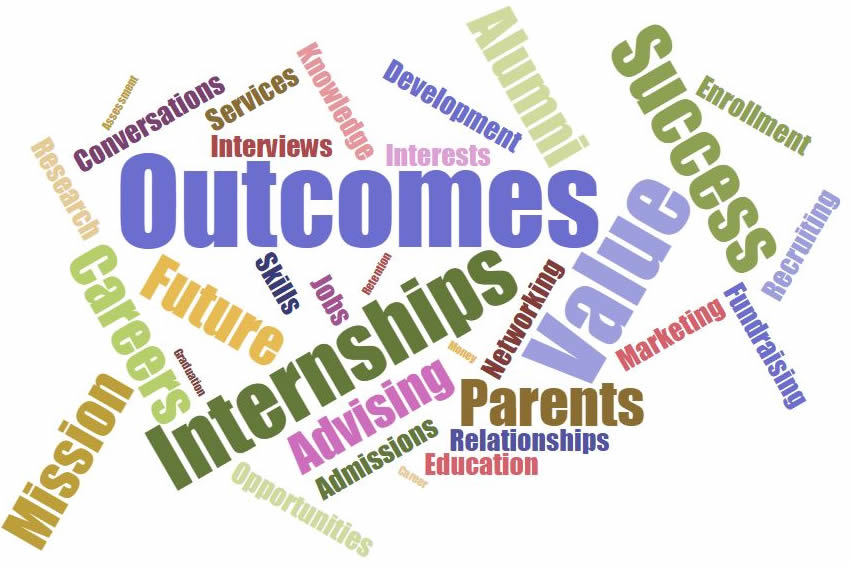 Colleges and universities have come under unprecedented, growing scrutiny in recent years from prospective students, parents, and lawmakers over issues related to cost and quality. Since the Great Recession colleges – and particularly private colleges – are being pressed to demonstrate the value of the degrees they confer in light of the cost of attendance.
In our market research, GDA Integrated Services has been tracking the attitudes of prospective students and parents for over 30 years. Until recently, academic quality in the academic department of the student's anticipated major has been the #1 most important characteristic that prospective students are looking for in a college. Since 2014, career preparation has eclipsed a strong department in the major of interest. This trend clearly indicates colleges must pay attention to career preparation and developing successful student outcomes. Not only is it what students want, but it plays a critical role for new student recruitment.
Research Highlights
Career preparation: 88% ranked "essential" or "very important"
Strong department in major: 83% ranked "essential" or "very important"
Excellent academic advising: 77% ranked "essential" or "very important"
Job Placement: 69% ranked "essential" or "very important"
While college bound students placed importance on these characteristics when choosing a college, our research indicates that colleges and universities are not living up to expectations:
Only 27% of current students said that they were "very satisfied" with career preparation
39% were "very satisfied" with the strength of the department in their major
28% were "very satisfied" with academic advising
23% were "very satisfied" with job placement
This indicates that there is much room for improvement.
Recommendations
Advising Program for First-year Students: Look to develop a comprehensive advising program with full-time staff dedicated to helping first-year students identify and achieve their personal, academic and professional goals.
Shift from Career Services to Career Development: Career services must move beyond interview tips and job postings. Career services must help all students, not just seniors, connect with employers, alumni, internships, and even parents as part of an ongoing personal and career development process.
Research Opportunities and Internships: Colleges must actively help students obtain hands-on work experience through research opportunities and internships by establishing relationships with employers, providing funding for internships, etc.
Practical Skills: Help students develop practical and professional skills by incorporating financial, business, entrepreneurial, leadership, technology and communication components into coursework and advising/career development workshops.
Alumni Networks: Alumni involvement is crucial – from mentoring students and providing externship and internship opportunities to funding career development programs and helping graduates find jobs.
Outcomes Data: Colleges must get better at collectingoutcomes data across larger samples of alumni and utilizing these data more strategically in developing recruiting, fundraising and marketing plans.
We Can Help
GDA Integrates Services can help your institution proactively develop successful student outcomes by identifying the strengths of your existing programs and opportunities for improvement. We can also help you fine-tune your value proposition and ensure that you get the right messages at the right time to prospective students and parents.
Contact GDAIS today at:
Bob Campagnuolo
860-388-3958
bob@dehne.com